Wascal 'Attention Defecit EP' Rocstar Records
Bristol based Wascal has been consistently putting out quality tunes for a couple of years now and his latest release for Cut la roc's Rocstar Records ups the bar again.
The 4 tracks show the depth and variety of Wascal's sound, from acoustic jungle, to funk, to garage, to dubstep and old skool the musicality and broad spectrum of referances shine through. Buy it at Juno, or the full release is out today!
http://www.junodownload.com/ppps/products/1543578-02.htm
http://wascal.wordpress.com/
Chavalaf "Take 2" 03/04/10 @ Blue Mountain
After the first Chavalaf sadly got canceled on the temporary closure of The Black Swan the Avalaf crew are having another stab, this time at Blue Mountain.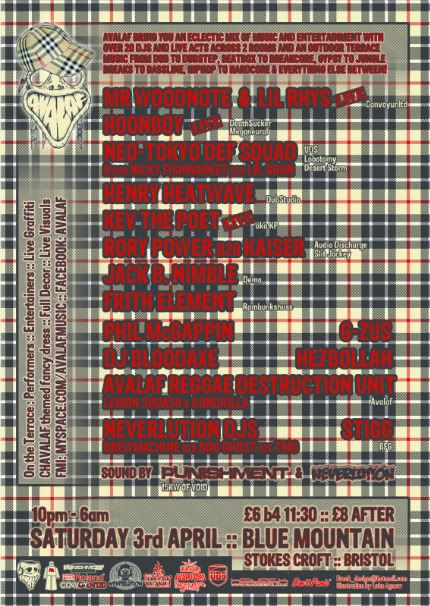 www.myspace.com/avalafmusic
Big Bailey Fail
Sound byte from the Red Bull recent soundclash in London of Bailey getting rinsed by DMZ's Sgt Pokes! Bristol's very own Dirt soundsystem provided the bassweight for the DMZ crew and should have won..
http://swamp81.tumblr.com/post/423406379/the-big-bailey-fail
http://www.hijackbristol.co.uk/board/the-forum/dirt-sound-system-kills-it-at-the-red-bull-sound-clash-in-london/